Support us
Cry About Crypt
Our free, private and encrypted file- and media-sharing service!
Latest posts
Our forums contain more than 72.000 posts in more than 10.00 topics at the moment.

Feel free to register for an account here.
bad_brain's blog
bad_brain's blog (6)
Monday, 08 June 2015 19:27
Written by bad_brain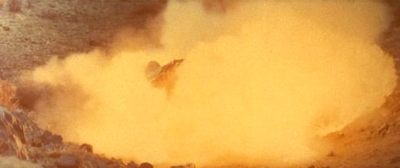 sooo....I've seen "Mad Max: Fury Road" last night. I expected nothing good, because already "Thunderdome" was horrible, and Mad Max without Mel Gibson? smelled a lot like "let's grab some big bucks by abusing the fame of the first 2 movies".
and I was totally right: "Fury road" IS absolute garbage. don't get me wrong, as standalone movie it wouldn't be THAT horrible (maybe 4/10 in my book), but advertising it as a Mad Max movie...what a joke.
I had a huge "um, what?" moment already after the silly pseudo-"Road Warrior" prelude, when Max stands besides his car. sooo....he went to one of the numerous "Mad Max car kit" shops which obviously exist in George "Greedy" Miller's dystopia and bought a new one? I mean, he must, because the car was blown into pieces in "Road Warrior".
but ok, logic doesn't mean much when all you are out for is the cash I guess.
the "new Max", after long years in the outback, also seems to suffer from severe psychological problems now, because his personality totally changed. in the prelude it is said that it's about "survival", but no, Max was never about that, he always was just running away from his demons of the past, and he also was not able to build relationships with other people anymore leave alone falling in love again after what happened in the first movie (remember how he didn't care about that blonde amazon hottie in "Road Warrior?).
but what happens? he falls in love, protects damsels in distress for no personal gain, fires out silly punchlines like a 80's action movie hero and he also fights like one now. of course his knee, which was blown with a shotgun by Bubba Zanetti in the first movie, and which was still the same years later in "Road Warrior" healed because of the healthy outback air in the meantime...I guess. and because of a lizard diet he also looks pretty chunky now, after all post-nuclear apokalypse days in the hot desert seem to be not bad for your health at all...good to know.
so yeah, as I said at the start, for a standalone movie I would give it a 4(maybe 5) out of 10, but for a "Mad Max" movie it is a total 0. George Miller should have called Kevin Costner instead and asked how much it is to call a movie "Reverse Waterworld", because that title would have fit SO much better.
and if Miller makes his threats true and REALLY comes out with 2 more movies (big glass of Star Wars anyone?) I will not bother anymore watching one of them. fuck you George Miller, go back to making kid's movies again.
Thursday, 06 June 2013 13:35
Written by bad_brain
I had the great "pleasure" of wasting some time on an extremely silly and even more pointless group on FB: the 2600 one, so here is my judgement.
first of all, on Facebook? really? how much of a hacking mindset can you have when getting on your knees and sucking the smelly cock of FB TOS and therefore having to censor your oh-so-high-valued free speech on every single thread just to avoid getting your lame asses banned by one of those faceless corporations you all hate so much (and obviously can't stop talking about HOW MUCH you hate those evil evil eviiiiil corporate capitalists)? and no, please don't come up with silly arguments like "rocking the cardbox from the inside, that's why we use FB"...the truth is: none of you has the balls, money and skills to run a community website. and again, don't come up with silly arguments like "but 2600 has a website!", because: no, it hasn't. what is has is a ugly pile of 90's-looking crapcode that is all about wanking money out of people by selling your retarded zine. I could set up that site in Wordpress within 30 minutes with even more and up to date features. btw, one thing that REALLY made me laugh on this "site" was the announcement of a meeting at...now fasten your seatbelts: Burger King. holy shanizzlez...being on FB and meeting at Burger King...oh you subversive rebels!
next point, let's have a look at the topics on this valuable FB group (as valuable as a fart under a blanket I mean). what obviously moves the mind of the modern "hackers" (see that as placeholder term for now, I will define the average 2600 FB member later) nowadays is: 3D printing guns, Bradley Manning, and, of course, as biggest part, the Adrian Lamo show. concept of the Adrian Lamo show is to brag and brag and brag endlessly about yourself and how famous you are (10 cent for each of his threads that starts with "people often ask me..." and I would be Jon Lajoie rich) without actually having done ANYTHING valuable except maybe for a silly hack more than 10 years ago. I don't go into that "snitch" thing, because I don't give a rat's ass about the cult of Lamo OR Annoymuch.
aaand next: the users. oh my gawd. where am I supposed to start. let's hit this in a mathematical way, ok?
- females 15-20%, females that are NOT there for being Lamo groupies: 0.1% (of those 15-20%)
- people that can actually code (I am generous and would even count the ability to do "Hello World!" in Bash): 5%
- plain bullshitters: 95%
- people with a politically correct mindset (which is quite the exact opposite of the hacker's mindset because those people are locked inside their self-censored self-righteous thought ghetto and are not capable to think outside the box): 90%
- PC mindset people that actively want to indoctrinate and teach others because they feel superior: 70% (of the 90%). a great example is Zachary Drummond who provided some mindblowing...erm...facepalming I mean...insights into his biogas inflated ego by posting "my IQ is 165 but I work at Subway making sandwiches" on his FB wall. on his LinkedIn page he also shows off with his "MS Office skills"...wow..I wonder why NASA didn't call him yet. or the "Pirateparty" boy Raymond Johansen who thinks writing like a 13 year old 4chan addict with down syndrome is hacky and cyber-hip: IT knowledge on the other hand: nada.
I have to admit being a member of the 2600 FB group can cause some self-running dynamics because you think you are getting real feedback when posting something, but when you look at the quality of feedbacks (content or people) I prefer to talk to the underarm fungus of the next homeless guy I meet, I am sure it's way more interesting...and out of the box.